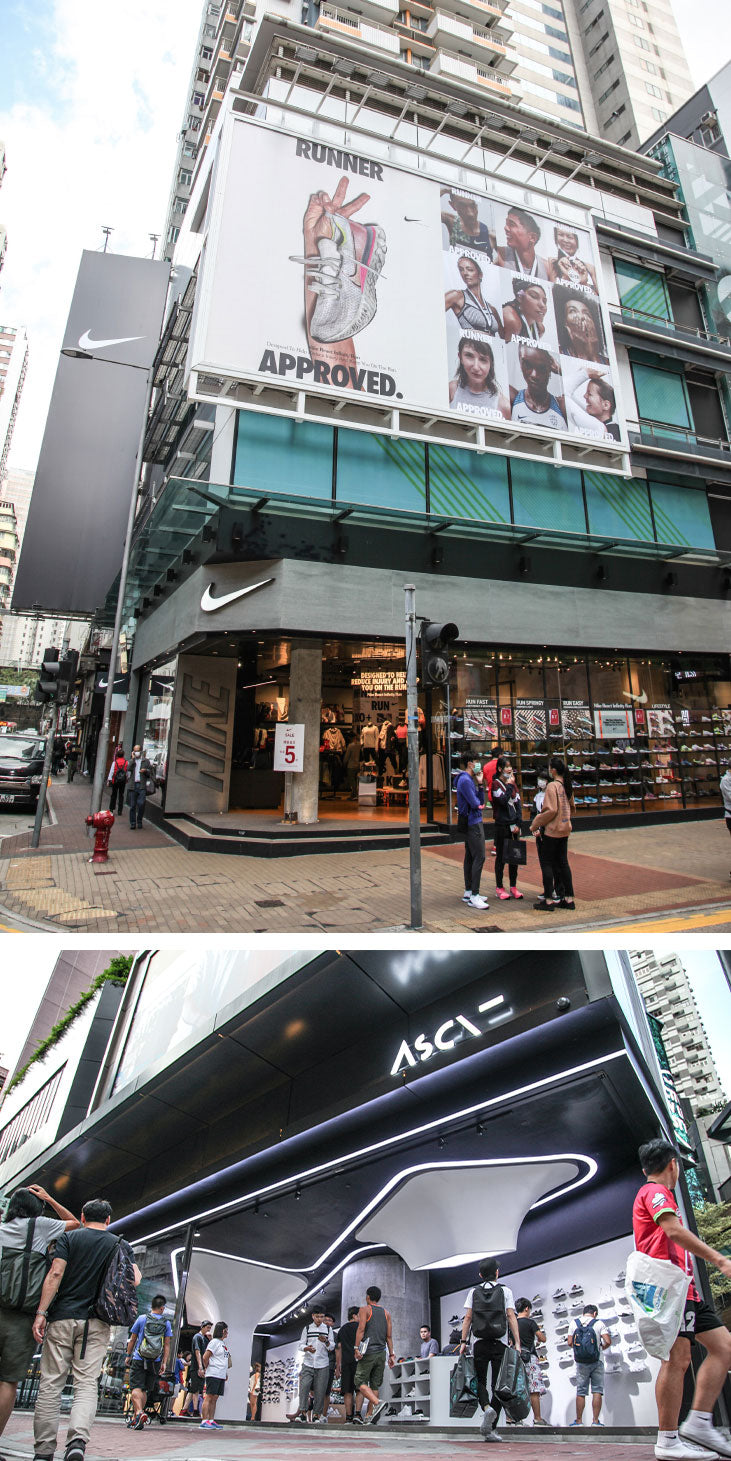 ABOUT US
We started as a small 400 sq ft shop in Sneaker Street HK in the 80s, now we are one of the top branded sportswear chain store in HK. 2016 our Toronto 76 awarded top of 7500 NSP in Nike Global, Sales Turnover 
WE ALWAYS FOCUS
We headed the changes of Sneaker Street HK in the 90s, being the first to open up NIKE specialty stores, the diversity and product richness it brings even surpasses average multi-branded store, with focus in one brand. 
We opened up our NIKE flagship in the heart of Sneaker Street HK, 2004, and since became global sales record leader and breaker, with competent and resourceful management. 
We pioneered NIKE specialty stores in Macau by opening the first of them in Venetian Macau, 2007. 
We have numerous NIKE specialty stores, with network reaching CBD of HK and Macau, with a growing customer base, and being a major player in the market. 
WE DEVELOP IN MULTIPLE MARKETS
With understanding of the wants of different age group customers, we tailor our merchandising, store positioning and even cashiering practice to cater for their needs. 
BIGPACK, German outdoor brand, after right being acquired, we have it expanded its territory from Sneaker Street HK to the entire China region. 
BIGPACKER, multi-brand outdoor store, where customers shop for leading European brands. 
BIGPACK CAFÉ, debuts authentic cuisine from the Alps. A place inspired by specific alpine landscape-wooden cottage and lodges to recap the true atmosphere in the mountain. 
PREMIUM SPORTS, always bringing in the latest fashion trends, the place to look for the "Limited Edition" products. 
TORONTO SPORTS, multi-brand chain stores, selling well-known sports brands for the majority market. 
TORONTO DYNAMICS, collecting the best, latest and trendy apparels and gears from all around the world, suited for sportsmen, fashion lovers and outdoor likers, dynamics in different styles. 
ASCNT, conceptual store with a quality unique spaceform and topology. Designed range of hybrid functional sportswear and mountain gears breaks through to a modern aspect, elevated generations. 
2018 

Awarded Nike Greater China Champion Sales Turnover per POS 

2017 

Expanded Nike Flagship to Global Highest Tier Specialty Store

Opened First Functional Sportswear Conceptual Store – ASCNT 

2016 

Awarded Nike Global Champion Sales Turnover per POS 

2015 

Awarded Nike Greater China Champion Sales Turnover per POS 

2014 

Awarded Nike Greater China Champion Sales Turnover per POS 
2013 

Awarded Nike Greater China Champion Sales Turnover per POS 

Awarded Nike Best Sales Growth 

2012 

Awarded Nike Global 1st Runners Up Sales Turnover per POS 

2011 

Awarded Nike Global Champion Sales Turnover per square feet 

Awarded Nike Best Sales Growth 

Flagship store turns into Nike specialty Flagship 
2010 

Awarded Nike Best Sales Growth 

Acquisition of BIGPACK 

JV matured with Lafuma Group 

2009 

POS of JV in China reached 100 

2008 

Awarded Nike Best Sales Growth 

POS of JV in China reached 50 

2007 

First to open Nike specialty store in Macau 
2005 

JV with Lafuma Group in China 

Flagship store opened in Hong Kong 

Pioneer Millet in Hong Kong 

2004 

First to open Nike specialty store in Hong Kong 

2003 

Pioneer Lafuma in Hong Kong 

1993 

Partnership with Nike started soon as their Hong Kong setup 

1976 

Established in Hong Kong with a sportswear retail shop